...........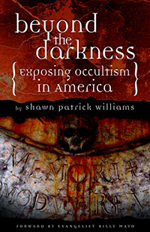 ..................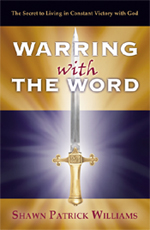 ............

Email Us To Request This Book
.....................
Click on this book to order
WARRING with THE WORD - "I have written unto you, young men, because ye are strong, and the word of God abideth in you, and ye have overcome the wicked one." I John 2:14 IT'S TIME TO LIVE IN VICTORY! .Are you beaten down and tired because of the spiritual warfare in your life? .Does it seem like you are in a constant endless cycle of defeat in your life? .Is the stress of everyday life, circumstances, and daily spiritual warfare pulling on your family, depleting your finances, and deflating your faith? If you answered yes to any of these questions, this book is for you! Warring with the Word gives you secrets to living in constant victory with God. It gives you powerful revelation teachings on lasting victorious spiritual warfare that will enable you to see victory in every area of your life. Shawn Patrick Williams, ex-drug dealer to the occult, brings his personal experiences of lasting victorious spiritual warfare coming out of the occult, as well as many other real life spiritual warfare experiences, to enable you to unlock the secret to living in constant victory with God in everyday life.
BEYOND THE DARKNESS "Yet a little while is the light with you. Walk while ye have the light, lest darkness come upon you: for he that walketh in darkness knoweth not whither he goeth" John 12:35
Over the past decade there has been over a 400% increase of occultism in America.
Beyond the Darkness
gives you an in-depth look at how occultism is affecting our American culture. Shawn Patrick Williams brings his personal experiences, extensive research of the social and medical evidence, plus a clear scriptural foundation of how occultic teachings and concepts have invaded every level of the American culture. From music to media, fantasy books to video games, Beyond the Darkness covers every major trend in the past decade that has had some measure of occultic influence on this generation.
Shawn Patrick tells you of his own struggle of American street life and how he became involved in occultic groups. He tells of the circumstances that surrounded his dark vow and how the divine intervention of the light of Jesus Christ set him free from addiction, bondage, and occultism.